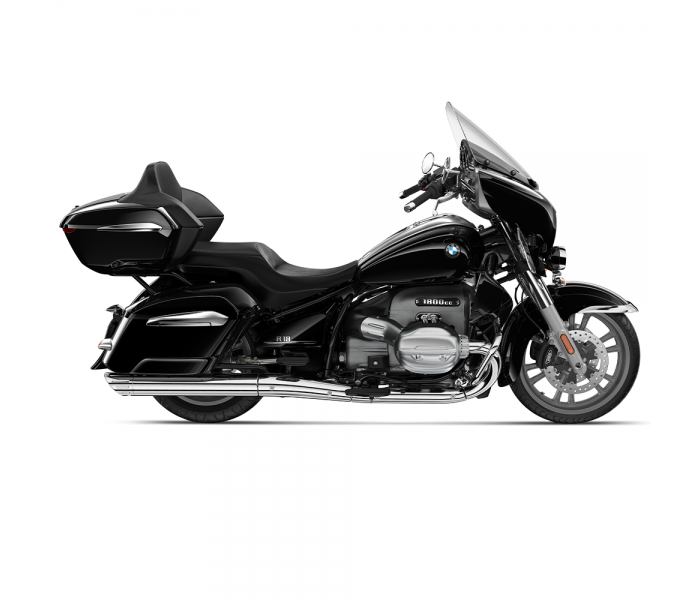 Πατήστε πάνω στην εικόνα για μεγέθυνση...
THE ROAD'S BEST DRESSED ICON
The R 18 Transcontinental offers you exclusive and luxurious traveling. As a member of the R 18 family it represents BMW Motorrad's tradition and is deeply rooted in the here and now: its unmistakable front end with the tall windscreen and the mighty Big Boxer promise a comfortable, powerful ride for miles. The automatic load compensation feature accurately adapts the chassis to the load applicable to the motorcycle. And thanks to it being prepared for customizing you can define your R 18 Transcontinental according to what you will discover on every trip: yourself. Simply put: classic #SoulFuel.
Traveling broadens the mind – and forms things like our character
The R 18 Transcontinental looks like it could just eat up the miles. The large front fender and the striking front end with both auxiliary headlights form the starting point for the elegant streamlined design. The 6.3 gallon tank, wind deflectors, floorboards and the topcase with backrest for the passenger complete the clearly defined look.
R 18 Transcontinental First Edition
The Black Storm Metallic paint with white double lines, wheels with silver-gray, contrasting machining and numerous chrome-plated details, such as the cylinder head covers or engine housing cover, demonstrate that style and confidence are crucial, at any time and anywhere.
Stick to your path
The R 18 Transcontinental has been excellently prepared for anything you throw at it. It has been designed so that you can customize it just like you want it. The wide range of Original BMW Motorrad Accessories additionally supports this customizing concept. The "Machined" and "2-Tone-Black" collections, designed in collaboration with Roland Sands Design, the classic "Option 719", for instance with AERO Design package, particularly emphasize the bike's luxurious appearance. The R 18 Transcontinental can be customized and upgraded with sophisticated and convenient touring equipment, such as case liners.
Engine
Design
Air/oil cooled twin-cylinder four-stroke boxer engine with two chain-driven camshafts above the crank shaft
Fuel preparation
Electronic intake manifold fuel injection/digital engine management: BMS-O with electromotive throttle controller
Emission control
Closed-loop three-way catalytic converter
Mileage / consumption
Fuel type
Super plus, unleaded (max. 15% ethanol, E15) RON 95 90 AKI
Electrical system
Alternator
Permanent magnet alternator with 660 W (nominal capacity)
Battery
12 V / 26 Ah, maintenance-free
Suspension/brakes
Frame
Double-cradle steel frame
Front suspension/spring elements
Rear-wheel guide/spring elements
Steel swingarm with central shock strut
Spring travel, front / rear
Wheels
Cast aluminum front wheel
Brake, front
Twin disc brake, 300 mm in diameter, four-piston fixed caliper
Brake, rear
Single disc brake, 300 mm in diameter, four-piston fixed caliper
ABS
BMW Motorrad Integral ABS (fully integrated)
Dimensions/weights
Seat height at vehicle curb weight
Inner leg curve at vehicle curb weight
Length (above spray guard)
Height (above windscreen, at DIN vehicle curb weight)
Width (across hand levers)
Vehicle curb weight, road-ready, fully fueled 1)
Payload (with standard equipment)
1) According to Directive (EU) 168/2013 with all operating fluids, with standard equipment and refuelled with at min. 90% of the usable fuel tank capacity.