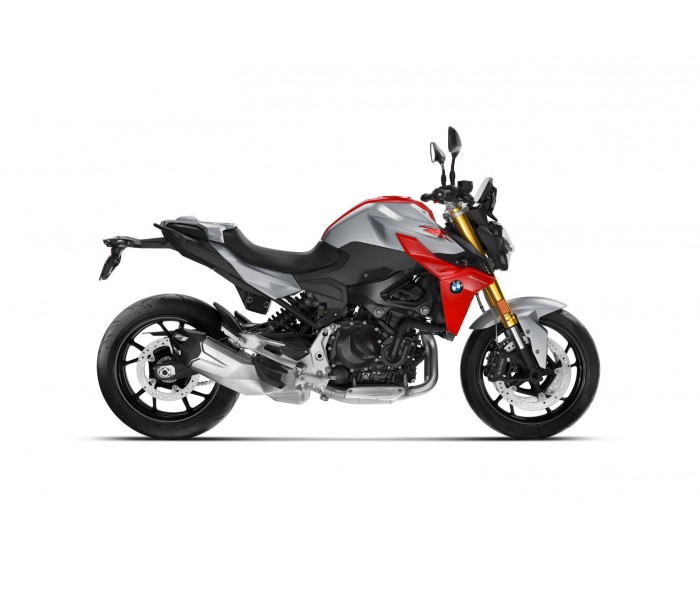 Πατήστε πάνω στην εικόνα για μεγέθυνση...
THE NEW BMW F 900 R.
DYNAMIC, PROGRESSIVE, INTUITIVE.
The puristic and powerful design of the F 900 R simply demands to be challenged. This dynamic roadster gives you the opportunity to get the adrenaline racing. The F 900 R responds with precision and accuracy. This means that you can engage its power intuitively, as if translating your thoughts directly into riding pleasure. The F 900 R also fully supports you with its lighting technology, connectivity, and safety – far more than the rest.
Climb on, get going, #NeverStopChallenging.
Don't be afraid – it just wants to have fun.
Behind the muscular gestures of the F 900 R stands pure riding enjoyment. Its precise edges emphasize the athleticism of the machine like tensed tendons. It appears focused, finely tuned. The front is aggressive. Headlights and cockpit sit compactly on the handlebars. Like the fists of a fighter: covered and ready to attack every split second. The tank is towards the front providing optimal mass distribution and a short tail. The compact underfloor silencer supports this crisp look.
Your style counts.
Every colour variant tells you something about the character of your F 900 R. Just as it does about yours.
Sport style: Hockenheim silver metallic/Racing red
The black rims, the front fender in vehicle colour, and the gold, anodised fork tubes emphasize the pure athleticism of the F 900 R.
Engine
Type
water-cooled 4-stroke in-line two-cylinder engine, four valves per cylinder, two overhead camshafts, dry sump lubrication
Rated output
77 kW (105 hp) at 8,500 rpm
Rated output (A2):
70 kW (95 hp) at 8,000 rpm
OE output reduction:
35 kW (48 hp) at 6,500 rpm
Max. torque (A2)
88 Nm at 6,750 rpm
OE output reduction:
66 Nm at 4,500 rpm
Emission control
closed-loop 3-way catalytic converter, emission standard EU-5
Performance / fuel consumption
Maximum speed (A2):
201 km/h.
OE output reduction: 162 km/h
Fuel consumption per 100 km based on WMTC
CO2 emission based on WMTC
Fuel type
unleaded super, minimum octane number 95 (RON)
Fuel type (A2)
unleaded regular fuel, minimum octane number 91 (RON)
Electrical system
Alternator
permanent magnetic alternator 416 W (nominal power)
Battery
12 V / 12 Ah, maintenance-free
Power transmission
Clutch
multiple-disc wet clutch (anti hopping), mechanically operated
Gearbox
constant mesh 6-speed gearbox integrated in crankcase
Drive
endless O-ring chain with shock damping in rear wheel hub
Chassis / brakes
Frame
Bridge-type frame, steel shell construction
Front wheel location / suspension
Upside-down telescopic fork, Ø 43 mm
Rear wheel location / suspension
Cast aluminium dual swing arm, central spring strut, spring pre-load hydraulically adjustable, rebound damping adjustable
Suspension travel, front / rear
135 mm / 142 mm
(OE suspension lowering kit: 115 mm / 122 mm)
Brake, front
Dual disc brake, floating brake discs, Ø 320 mm, 4-piston radial brake calipers
Brake, rear
Single disc brake, Ø 265 mm, single-piston floating caliper
Dimensions / weights
Seat height
815 mm (OE suspension lowering kit: 770 mm, OE low seat: 790 mm, OA high seat: 835 mm, OA comfort seat: 840 mm, OE extra high seat: 865 mm)
Inner leg curve
1,820 mm (OE suspension lowering kit: 1,755 mm, OE low seat: 1,785 mm, OA high seat: 1,860 mm, OA comfort seat: 1,870 mm, OE extra high seat: 1,890 mm)
Unladen weight, road ready, fully fuelled
Payload (with standard equipment)