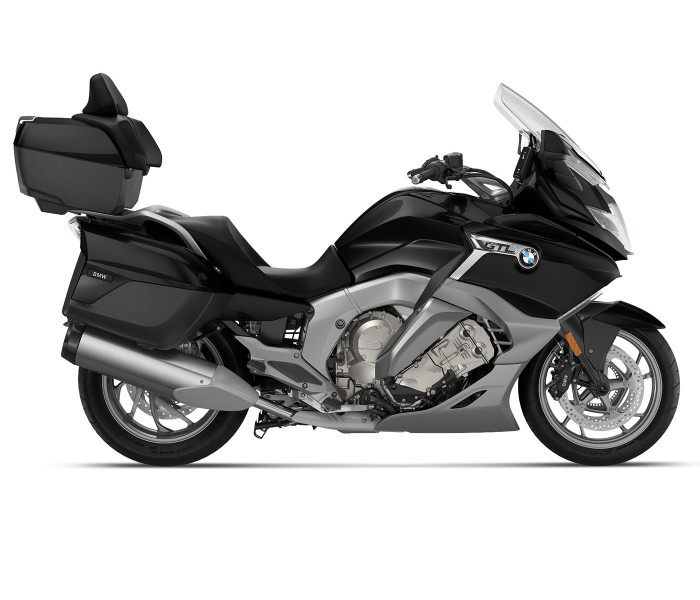 Πατήστε πάνω στην εικόνα για μεγέθυνση...
ΕΝΗΜΕΡΩΣΗ: Σας ενημερώνουμε, ότι λόγω της Covid-19, ενδέχεται να υπάρχει έλλειψη κάποιων προϊόντων στα εργοστάσια.
Σε αυτή την περίπτωση, θα επικοινωνούμε μαζί σας και θα σας ενημερώνουμε το ταχύτερο δυνατό. Επίσης θα σας επιστρέψουμε τα χρήματά σας σε περίπτωση που έχετε προπληρώσει.
THE BMW K 1600 GTL
TRAVELLING TOGETHER
There is a German proverb along the lines of "anyone who travels with ambitions never travels alone." This is especially true when you are travelling with someone else. The BMW K 1600 GTL represents both these elements. It offers performance touring that leaves no wishes unfulfilled. Its powerful six-cylinder engine now delivers even more dynamism and superior character: thanks to the comfortably designed vehicle geometry, you can enjoy every kilometre. The cockpit has also been redesigned. it has been entirely geared towards interaction with you so you can enjoy every tour even more consciously and intensively. Because travelling together starts here – truly in the spirit of #RideAndShare.
Specification.
10,25" TFT Display with ConnectedRide Navigation and Connectivity
Smartphone compartment (Incl. USB-C Charging interface – cable required)
LED Headlight (Incl. Adaptive headlight and Daytime Riding Light)
Configurable Favourite buttons
Intelligent Emergency Call and Teleservices
Reverse gear
Dynamic ESA
Dynamic Traction Control
Tyre Pressure Control
Cruise Control
2 x 12V Sockets
Hill Start Control Pro
Dynamic Engine Brake Control (MSR)
Heated Seat and grips
Audio System 2.0
Top Case on body colour (Detachable)
Centre Stand
Sometimes it's the small things that make a trip unforgettable. That's why the K 1600 GTL is exclusive down to the last detail: be it the armrest for your companion, the sophisticated liners for cases and topcase or the numerous chrome parts that make your bike look perfect. You yourself can rely on the best light conditions you could have hoped for thanks to the full LED headlight with adaptive headlight. Turn night into day – and enjoy riding around the clock in ideal light conditions: for exclusive comfort and greater safety.
Colours are only light – but a very special kind of light
The three colour variants of the K 1600 GTL emphasise its sophisticated claim. After all, the fact you are travelling at the top end of the spectrum should not just become evident from comfort and performance.
Exclusive – exclusively for you
At the end of the day, staying true to yourself and your approach is the most important thing – even when you're travelling. Turn the K 1600 GTL into your very own bike with our optional equipment and Original BMW Motorrad Accessories. The comfort package already provides you with additional LED headlights and engine protection bars as well as Keyless Ride, central locking system and anti-theft alarm. The package is rounded off by shift assistant Pro, enabling gearshifts without having to actuate the clutch.
The name says it all
The K 1600 GTL is as complete and accomplished as you could picture it in your wildest dreams. However, just like it is possible to add a few kilometres to every trip, we can always add more to the bike. We have put together two bikes for you to inspire you: the "endurance runner" and the "exclusive" variants. Be inspired and discover even more comfort and personal highlights.
Athletic, dynamic and superior, the K 1600 GTL represents exclusive and comfortable travelling. However, our design standards go even further: being connected to each other, reading maps, reaching your destination as a team along the most beautiful routes. The 10.25" TFT colour display of the K 1600 GTL is the perfect companion for this purpose. Its full-screen mode offers a fully interactive map view for navigation with the BMW Motorrad Connected app: for cockpit navigation like you have never experienced it before. In split screen mode, on the other hand, you can rely on several functions at the same time, and you are able to control them in a straight-forward way using the multi-controller.
How do legends come about and how do they travel around the world? With the K 1600 GTL's six-cylinder engine, the answer is clear: by travelling. Its superior character and performance are legendary, yet tangible. And thanks to the revised engine control unit, output and torque are now even more powerful. The motorcycle already develops the 160 hp rated output 1,000 rpm earlier, at 6,750 rpm. Engine drag torque control (dynamic engine brake control) and Dynamic ESA ensure stability plus safety and are perfectly adapted to the now even more emotionally designed riding modes: for even more focussed performance touring.
Engine
Type
Oil/water-cooled, six-cylinder, four-stroke, in-line engine with four valves per cylinder
Rated output
118 kW (160 hp) at 6,750 rpm
Mixture control
Electronic intake pipe injection digital engine management system: BMS-O with throttle-by-wire
Emission control
Closed-loop 3-way catalytic converter, emission standard EU-5
Performance / fuel consumption
Fuel consumption per 100 km based on WMTC
CO2 emission based on WMTC
Fuel type
Unleaded super (max. 15 % Ethanol, E15) / ROZ 95 / 90 AKI
Electrical system
Alternator
Three-phase alternator with 700 W (nominal power)
Battery
12 V / 16 Ah, maintenance-free
Power transmission
Clutch
Multiple-disc clutch in oil bath
Gearbox
6-speed, helical, gearbox
Chassis / brakes
Frame
Bridge-type frame, cast aluminium, load-bearing engine
Front wheel location / suspension
BMW Motorrad Duolever; central spring strut
Rear wheel location / suspension
Cast aluminium single-sided swing arm with BMW Motorrad Paralever; central spring strut
Suspension travel, front / rear
Brake, front
Dual disc brake, diameter 320 mm, 4-piston fixed calipers
Brake, rear
Single disc brake, diameter 320 mm, double-piston caliper
ABS
BMW Motorrad Integral ABS Pro (part-integral, slant-layer-optimized)
Dimension / weights
Height (at windshield and topcase, DIN-unladen weight)
Unladen weight, road ready, fully fuelled
Payload (with standard equipment)
1) According to guideline VO (EU) 168/2013 with all fluids, with standard equipment and fuelled with at least 90% of usable tank volume.